About Us
Dr. Daniel Kim, DC
Dr. Daniel Kim, DC, San Jose Chiropractor, has been serving San Jose, CA and the neighboring cities for many years. Dr. Daniel graduated from Palmer Chiropractic College - West in San Jose. Prior to his career as a Chiropractor, he graduated with a degree of Bachelor of Science in Chemistry from the University of California, Davis and played football for the Aggies. Following graduation, he worked in the private sector of environmental protection, and as a chemist in drug design for a pharmaceutical / neutraceutical company.

After being part of the drug industry, Dr. Daniel decided to pursue a career in Chiropractic to help save lives in a more natural way (via spinal health, nutrition and the use of practical ways to improve and maintain health). Once a skeptic, Dr. Daniel learned that chiropractic has a whole different and successful approach toward health.

Prior to Kim Dynamic Body Chiropractic, P.C., Dr. Daniel Kim worked in high-volume chiropractic office where he was exposed to the most intense and diverse cases. The cases ranged from post-surgical neck/back fusion and cancers to maternal care, geriatric, and pediatric care. The success of his career has given Dr. Daniel Kim the reputation as prominent San Jose Chiropractor.

Dr. Daniel lives in San Jose with his wife, Sarah. In his spare time, he enjoys educating, surfing, tennis, and family time.
Anna Sallas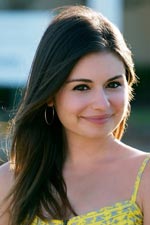 In 2008 Anna became a Licensed Esthetician and began her career in a spa. While working along side Massage Therapists, she began receiving regular body work. Seeing the amazing benefits, she quickly fell in love with Swedish Massage and Deep Tissue. Anna decided to go to National Holistic to receive her Massage Certification. She became State Certified in 2011 and continued to work in the spa industry.

In 2012 she decided to get involved with a running group and train for her first marathon. During that time, she started working on long distance runners giving them Deep Tissue and Sports Massage. The more technical work became fascinating to her and she decided to make that a focus. She then started working in a Chiropractic setting while continuing to work on runners and grow in Sports Therapy. With a passion for both technical work and spa work, Anna likes to do a blend in all her sessions to give clients exactly what they need. Anna enjoys practicing yoga, hiking and running. She also has an interest in living a healthy lifestyle with a plant-based, organic diet.

Anna specializes in:
Deep Tissue
Swedish
Heavy Handed Swedish
Sports Massage
Hot Stone
Pre-Natal
Trigger Point Massage
Thai
Shiatsu
She incorporates joint mobilization, Thai techniques, and her intuitive nature of identifying individual points of muscle tension. By utilizing the various techniques that she has acquired through education and many years of experience, Anna designs her sessions based on the client's preferences and specific needs.