Greens First
The Natural Energy Drink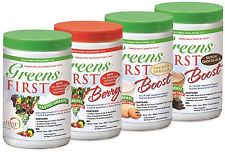 PROVIDES 15+ SERVINGS OF ORGANIC FRUITS & VEGETABLES.
Greens First® is a nutrient-rich, phytonutrient & antioxidant super-food. It balances, supports and nourishes your whole body…plus, it gives you something unexpected...GREAT TASTE!

MORE THAN VITAMINS
Greens First® contains all-natural, health building ingredients. It's more than just a greens product and goes far beyond regular nutrition in maintaining your health and promoting anti-aging and overall wellness.* It's fortified with a proprietary OxiSure Blend so each serving surpasses the raw food nutrition of more than 15+ servings of organic fruits and vegetables.


Adding Greens First® to your diet may help to:
Alkalize and Balance Your Body's pH Levels
Reduce Inflammation & Promote Healing
Relieve Achy Joints & Build Strong Bones
Increase Energy Levels without Stimulants
Boost the Immune System & Improve Digestion
Assist in Weight Management
Balance Healthy Blood Sugar Levels
Promote Mental & Cognitive Acuity
Promote Healthy Heart & Liver Function
Maximize Your Health & Improve Overall Well-Being*
Click here to view product ingredients

*These statements have not been evaluated by the Food and Drug Administration. This product is not intended to diagnose, treat, cure or prevent any disease.